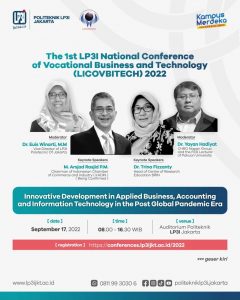 CALL FOR PAPERS
Dear Colleagues,
The Center for Research and Community Service of Politeknik LP3I Jakarta(PLJ) proudly presents
The 1st LP3I National Conference of Vocational Business and Technology (LICOVBITECH) 2022 with the big theme is "Innovative Development in Applied Business, Accounting and Information Technology in the Post Global Pandemic Era" that will be held in a hybrid mode (onsite and virtually) on September 17, 2022.
🎤 Keynote Speakers:
1. Dr. Trina Fizzanty. (Head of Center of Research Education BRIN)
2. M. Arsjad Rasjid,PM (Chairman of Indonesian Chamber of Commerce and Industry) Being Confirmed
🎤Moderators:
1. Dr. Euis Winarti, MM (Vice Director of Politeknik LP3I Jakarta)
2. Dr.Yayan Hadiyat (CHRO Napan Group and Lecturer of Pakuan University
and more inspiring speakers from LICOVBITECH Collaborators.
The researches related to creative industries cover the following fields:
Applied Sciences Sub-themes:
Applied Business:
• Business Administration
• Digital Marketing
• Tourism and Hotel
• Creative Economics
• Business Management
• Strategic Management
• Marketing Management
• Human Resource Management
• Economics Development
• Business Intelligent
• Entrepreneur
Applied Accounting:
• Financial Accounting
• Management Accounting
• Public Sector Accounting
• Banking Accounting
• Sharia Accounting
• Taxation
• Accounting Information System
• Finance Technology
• Financial and Investment Management
• Auditing
Informatic Technology:
• Information System
• Automation
• Informatics Computer
• Multimedia and E-Learning
• Instrumentation
• Digital Literacy
• ICT's and Sustainable Development
• Computer Network and Security
• Human Computer Interaction and IU/UX Design
• Big Data and Data Science
• Virtual/Augmented Reality
• Networking Traffic Modeling
• Technopreneur
Presenter Fee:
Onsite 300k Early Bird Before August 17: 250k
Online 150k
National Seminar participant Fee:
Online: 50k
📜See the leaflet and visit our website for more details about the agenda!
📌 We would like to offer other institutions and universities to join as the CO-HOST of the Conference with some interesting benefits.
( Terms and conditions apply)
Save the dates and REGISTER NOW! at:
🔽🔽https://conferences.lp3ijkt.ac.id/2022
For more information, please contact:
⏩ +62812 91 5858 99 (Sudirman)
⏩ +62812 1113 88734 (Pundhi)
📩 Email: Licovbitech@lp3i.id
We look forward for your participation in the Conference
Regards
Donny Oktavian Syah Ph.D
Chair of Conference